Wednesday, March 21, 2018. New Comics TODAY!
How To Order Comic Books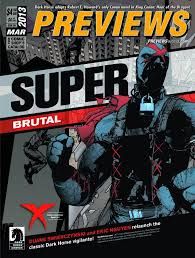 There are two ways to order comic books at Legacy Comics. The first is by purchasing a physical copy of the PREVIEWS Catalog and filling out the enclosed order form. Every month a new catalog is available for purchase. What is the PREVIEWS CATALOG you ask? The PREVIEWS Catalog is what comic shops all over the world use to order comic books. The catalog shows what awesome comic books will be released in the near future. If the Catalog has a date of MAY 2013 it is chock full of great titles and items that will be available in July 2013. That's right...all comic shops have to order their comic books two months in advance. This allows shops to gauge how many books to order and also give the publishers time to determine, by demand, how many copies of each title to print.
The second method for ordering comics is by registering on the Legacy Comics Website and clicking the link on the right hand side of the screen labeled PREVIEWS CATALOG. This link will show you the entire catalog on your computer and allow you to search/sort through 400 pages of new items by title or publisher. When you are looking at a particular issue you have two options. You can click the "PULL" button to order the exact item you are looking at or you can click the "SUBSCRIBE" button to receive every issue in the series you are viewing from that particular issue on.
Every day we receive an email showing exactly who has placed orders and we "officially" place those orders for you. Our ordering system is both easy to use and very accurate. By viewing the catalog on our website you are able to see a picture of the item as wells as a description and credits for the issue. Occasionally a preview of the issue is also available.
Mar 2018
PREVIEWS CATALOG
News
Next Week In Comics Podcast for 03/05/14
February 16th, 2014
Recent